Before You Get a Visa to Pakistan…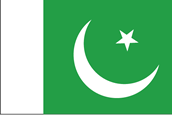 If you are an American and wish to travel to Pakistan, you will require a visa no matter if you are going for business or pleasure.
There are some special notices that go along with obtaining a Pakistani visa. Your maximum stay in the country can be for 30 consecutive days. The processing time can run 4-6 weeks and expedited service is not available for a Pakistan visa.
At the time of this writing, the Embassy of Pakistan advises that those traveling for Non-Governmental Organizations (NGO); humanitarian; missionary organizations, may be delayed several weeks.
The probability of obtaining a visa to Pakistan are slim at this time, but a an invitation from the host organization in Pakistan should also be provided and can help your case for travel.
Please be aware that because there is a service fee and embassy fee, if your visa is not obtained, there is no refund of these fees.
If you'd like to apply for a visa to Pakistan, please visit our Pakistani visa page for the latest forms and instructions. If you have any questions, just call us (713) 874-1420, a staff member is ready to assist you.