Get Your Ghana Tourism Visa Expedited in Houston
Planning a trip to Ghana? You will need a travel visa to enter the country for tourism purposes.  The good news is we can get your travel visa in 1-2 working days if you need it expedited.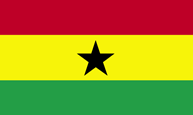 We have put together a handy list for obtaining both business and tourism class travel visas.  Just gather the required documents and we can do the rest for you. Best of all, you'll save a trip to the consulate. We do the legwork for you.
To get your Tourist Visa for Ghana just do this:
Complete and print two Ghana Visa Applications
Submit two passport-type photos
Submit your physical US passport with more than 6 months validity before the expiration date
One copy of the flight itinerary
Texas Tower order form


Travel tips
It's not a constant rule, but Ghana frequently requires a yellow fever vaccination for travelers over nine months of age. We can check to see if it is required at the time of your travel.
For travel warnings, the State Department has a portal for Ghana-issued travel warnings.
Sights to see in Ghana
Here is a fantastic overview of just a slice of what you can see in Ghana from the official tourism board.
Let us make your trip to Ghana easy as possible, leave the acquisition of your visa to us! Get started here at our Ghana visa page.