Healthy Eating When You Travel – What's Safe and What's Not
The Centers for Disease Control and Prevention (CDC) put out a very helpful infographic helping travelers avoid getting sick when traveling overseas.
According to the CDC, "Unclean food and water can cause travelers' diarrhea and other diseases. Travelers to developing countries are especially at risk. In otherwise healthy adults, diarrhea is rarely serious or life-threatening, but it can certainly make for an unpleasant trip. Take steps to avoid diarrhea when you travel."
This is why many people get hepatitis A and other vaccinations before traveling.
The CDC put together a helpful infographic for a rough and ready guide to what is probably safe to consume where you're going.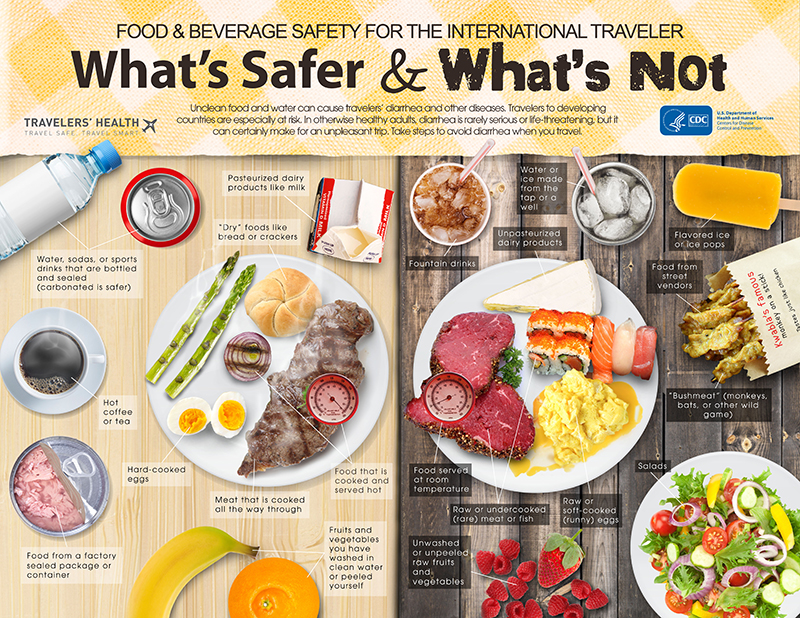 Click image for a full-size version
What's Safer (source: CDC) 
Pasteurized dairy products like milk
"Dry" food like bread or crackers
Water, sodas, or sports drinks that are bottled and sealed (carbonated is safer)
Hot coffee or tea
Hard-cooked eggs
Food that is cooked and served hot
Meat that is cooked all the way through
Food from a factory sealed package or container
Fruit and vegetables you have washed in clean water or peeled
What's Not
Fountain drinks
Water or ice made from the tap or a well
Flavored ice pops
Unpasteurized dairy products
Food from street vendors
Bushmeat (monkeys, bats, or other wild game)
Food served at room temperature
Raw or undercooked (rare) meat or fish
Raw or soft-cooked (runny) eggs
Unwashed or unpeeled raw fruits and vegetables
Salads
Texas Tower expedites U.S. passports and travel visas. We also obtain certified U.S. birth certificates, translations, and more. 
Call us at 713-874-1420.