Here's How to Get Your Very First Passport
Between now and 2020, several states will need to comply with the Western Hemisphere Travel Initiative and their state issued i.d.'s will need to meet certain requirements. If not, a passport will be a necessary for state to state travel within the United States. Also, it's a good idea to have a valid passport.
Don't have a passport? It's time you did!
There are just 3 main steps to getting your passport and then your boundaries for travel will broaden dramatically. Using a passport expediting service can make the process even easier.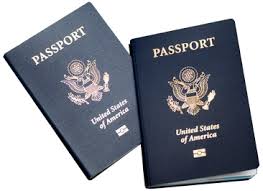 Step One
You will need to complete and print out the application from the Department of State. However, don't sign just yet. You will need to wait to do that in step 2. You will need to make a copy of the DS-11 form to include with your order to expedite your passport. The next step will be to obtain two passport quality photos. You can get these done at any Walgreens, Kinkos, or CVS. Now, you're going to need proof of your identity in the form of a certified birth certificate or U.S. naturalization document.
You will also need to print out a copy of the authorization letters for Texas Tower to act on your behalf.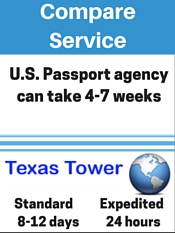 Step Two
An authorized Passport Agency Deputy (also known as a local United States Post Office) will need to witness and execute your documents you filled out at the Department of State website. If you need help finding a local agency, you can go here: http://iafdb.travel.state.gov. The Passport Agency Deputy will charge a required fee of $25 to execute your documents and that will be paid separately from your passport expediting fees. The Deputy will place your signed and witnessed documents into an envelope that is sealed. Do not reopen this envelope. Ask for your documents back and state you will be using our services to process your passport request.
Step Three
Send your documents in the sealed envelope with your order form to Texas Tower.
That's it, that's all the steps you have to do to get a passport. Ready to get started? Just click here and you can begin the steps to getting your passport today.