How Do You Get an International Driver's License?
You don't have to be at the mercy of other people, the public transportation system, or taxis when you travel internationally. If you have a valid U.S. driver's license and you are over 18-years of age, you just qualified for an International Driver's License.
Why get an International Driving Permit?
If you want to be in command of your own time when you travel, the best way is to get an international driving permit and see your destination country on your own schedule.
I have a driver's license here in the U.S., can't I just use that to rent a car overseas?
Your state issued driver's license in the United States won't be recognized as a valid instrument for operating a vehicle in another country. That's where an International Driving Permit (IDP) comes in.
Where do I take the driver's test?
There is no special test required to obtain an IDP. You will need to be a legally licensed driver in the United States. Most foreign governments will allow you to legally operate a vehicle in their country.
I'm 19 and a licensed driver, can I get an International Driver's License?
Yes! The minimum age to get an IDP is 18 years of age.
How long is an IDP good for after issuance?
An IDP is good for one year from the issue date.
How can I check to see if the country I am traveling to will allow me to use an IDP?
If you aren't sure that you'll be able to use an IDP during your travels, contact our office and we can give you the latest information on the validity of using an IDP in the country or countries you plan on traveling to. Just call 713-874-1420 during regular business hours or reach out to us at Twitter or Facebook.
What does an International Driving License look like?
Here's one example: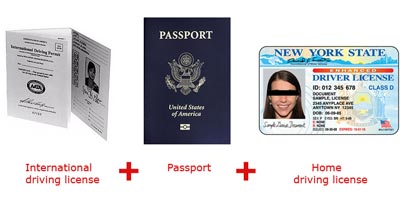 Is it possible to apply online for an International Driver's License?
Yes, the process is easy. Just fill out our order form, and we'll do the rest for you.
Those are some of the most common questions for International Driving Permits. Got a question we didn't answer? Just ask!