How Many of These Passport Facts Do You Know?
Love to travel?
How much do you know about your humble passport? Recently, we put together a list of the most common questions we get regarding passports. See how many of these facts you know about U.S. passports.
What is the cost of getting a U.S. Passport?
It depends on the type of passport you need and the speed at which you need your passport processed. You can see the full list at Texas Tower Passports.
You have an emergency that requires international travel, how do you get a passport?
There are two choices you can make:
(1) You can go through a passport agency where you will be required to schedule an appointment and appear in person with documentation of your emergency.
(2) You can use a third-party agency such as Texas Tower Passport and Visa to obtain your passport and you will only be required to fill out paperwork and send it to our office. Call our office at 713-874-1420 to get started now.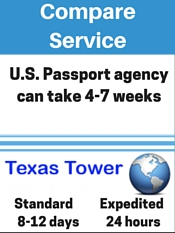 How long does it take to get a passport?
It depends on where you order your passport from. Getting a passport from your local passport agency requires an appointment and standard service can be four to seven weeks. This is where using a third-party agency pays off. If you order your passport through Texas Tower, we can obtain it in as little as 24-hours. Our standard turn-around time is 8-12 days.
How many blank visa pages should you have in your passport?
It's a good idea to have two to four blank visa pages in your passport. Not all countries require a blank page for entry/exit visa stamps, but you could be prevented from boarding your flight if our passport doesn't have the adequate amount of pages if you are visiting a country that has that requirement.  As of January 2016, you can no longer add pages to your passport, you will need to renew if you need to add pages.
If you're renewing your passport, do you get your old one back?
Yes, you do. In fact, it's a good idea to keep your old passport in a safe place, as it can be proof of your U.S. citizenship.
What should you do if you find a lost passport?
If you cannot readily locate the passport holder, you should mail the passport to this address:
ATTN: CLASP
U.S. Department of State
CA/PPT/S/L/LE
4th Floor
1150 Passport Services PL
Dulles, VA 20189-1150
Do you need a passport for domestic travel?
Not at this time, according to the Department of Homeland Security,  you can read more on this at the DHS's Real I.D. page. A recent news story from CBS Philly on February 3rd noted travelers should renew their passports as soon as possible if they are coming up on expiration.
Who signs an infant or young child's passport book?
The parent or legal guardian can print the child's name, then sign their own name in the space provided.
What type of paper should photos for passports be printed on?
Photos must be printed on matte or glossy photo quality paper.
Can you wear eyeglasses in a passport photo?

In November 2016, glasses cannot be worn in your passport photo.
Those are just a few of the most common questions we get on a regular basis. Got a passport or visa question? Ask us on Facebook or call 713-874-1420.