How to Expedite Your US Passport Renewal in Houston
An expired US passport will hold up your international travel plans, and current wait times for a new US passport can be up to seven weeks. That's where the service for expediting your US passport renewal in Houston comes into play.
Did you know you can expedite your US passport and get it in days instead of weeks or even as fast as 24-hours?
Here's all you have to do:
First, make sure you meet the requirements for a US passport renewal in Houston.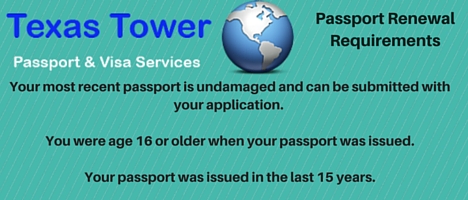 Then, follow these steps
Step 1: One completed and signed application for passport renewal. This must be completed online at the Department of State's passport portal.
Step 2: You will need two passport-type photographs, you can get them taken professionally at Walgreens, CVS or we can assist you.
Step 3: Fill out your authorization letter for Texas Tower to act on your behalf at the Passport Agency, your Authorization letters are here.
Step 4: Include your current passport. Please note that your passport number will change. Your canceled passport will be returned to you.
Step 5: A copy of your flight itinerary or company letter requestion rush service. Here is a Sample rush request letter.
Step 6: Include a completed, signed Texas Tower Order Form
Step 7: Send the completed documents to us and we will obtain your US passport for you!
Get started here at our Passport Renewal page.
Any questions? Please call 713-874-1420, we will be happy to assist you, Se Habla Espanol.