Top 15 Places to Visit in Mozambique

Mozambique is a beautiful country situated on the coast of Africa with a huge draw for tourists.  As their tourism industry continues to grow, it's a good idea to put Mozambique on your bucket list of must-see destinations.
How long is an entry visa good for?
Maximum Stay: 30 days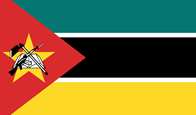 What documents do United States travelers require for entry?
For business visas to enter Mozambique, travelers will need:
For tourist visas, travelers will need the following:
One completed Mozambique visa application
Two passport type photos
Physical passport with 6 months validity beyond trip completion and one blank visa page
Non-USA passport holders must provide a copy of green card or US Visa and I-94
One copy of flight itinerary
Texas Tower order form
Are vaccinations for yellow fever required?
If traveling from the United States no vaccination is usually required. If you're entering from a country where yellow fever is prevalent, a vaccination may be required.
Ready to get your travel visa to Mozambique? We're ready to assist you! You can get every document you need here on our page for Mozambique travel visas.