How to Get Your Tanzania Travel Visa in Houston

Tanzania is one of the top ten visas we process. Since it's one we do often, we get a lot of questions regarding how the process works, and specific questions pertaining to Tanzania visas.  Here are some of the most common, see how many you already knew.
The form asked for the type of visa I am applying for to travel to Tanzania, what does that mean?
There are two types of travel visas and which one you choose depends on the nature of your travel to Tanzania. If you're going for business, obviously choose a business-class visa for entry to the country. If you are going for tourism purposes, there's your visa type.
Where do I find the Tanzania visa application online?
You will need to submit only one copy with your order for a visa. We have a link on our site located here.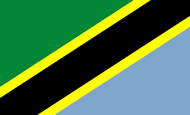 How many passport photos will I need to submit with my Tanzania visa application?
You will need to submit two photos. If you want to take your own, we have a handy post on how to take your own passport photo with the requirements.
Do I have to include my current passport in my application for a Tanzania travel visa?
Yes, you will need to include your physical passport with 6 months validity beyond trip completion and one blank visa page.

I don't have one blank visa page in my passport, what can I do?
As of January 2016, you can no longer add pages to your passport. You must also renew your passport if you need to add extra pages.
What is the maximum stay in Tanzania on a visa?
The maximum stay is 30 days.
My passport is from another country, can I still apply?
Most likely, Non-USA passport holders must provide a copy of green card or US Visa and I-94. Call our office at 713-874-1420, there's an excellent chance we can help you get your visa to Tanzania.
My business travel visa is requiring a company letter, do you have a sample business letter so I get this right?
You can generate a properly formatted letter on our site, just print with your flight information and print on your company letterhead. You will find the business letter sample here.
What is the standard turnaround time for Texas Tower to process a Tanzania travel visa?
Standard time service is 8-10 days. If you require expedited service we can obtain your Tanzania visa in one day.
Hope that answered any questions you had about getting your Tanzania visa. If you have a question we haven't covered, just contact our office at 713-874-1420 or just send your question to @txtpassportvisa on Twitter or Texas Tower on Facebook.