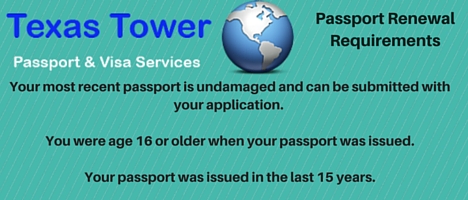 If these do not apply, you will need to apply for a new passport
All documents must be signed and mailed to us. Unfortunately, you may not scan and email us these documents because the Department of State requires original signatures.
We have a handy list of the documents you will need to gather on our dedicated Passport Renewal page.
It will entail the following:
Passport Application
Two Passport Photos
Authorization Letter
Your Current Passport
Flight Itinerary or Company Letter
Texas Tower Order Form
Our knowledgable staff in Houston is ready to answer any questions you may have about renewing your passport. If you feel you have a special situation, need your passport expedited even faster than normal time service or other concern, talk to us.  Call our office during regular office hours at 713-874-1420 and we'll be happy to assist you.