Passport Renewal Doesn't Have to Be a Hassle – Here's How Easy it Can Be
If someone asked you right now if your passport was expired, do you know for sure? Remember if it's got six months or less to go before the expiration date, just call it expired. The huge majority of countries require at least six months of time left after the completion date of your departure from the country. So, time to renew that passport.
When you want to renew your passport, you have two main choices. You can go through the Passport Agency which can take four to seven weeks on the average or you can outsource the task to a passport and visa company. There is a small service fee attached, but doing the legwork to get a passport renewal won't be on you.
The following is an overview of how to renew your passport.
First make sure you meet the minimum requirements to renew your passport.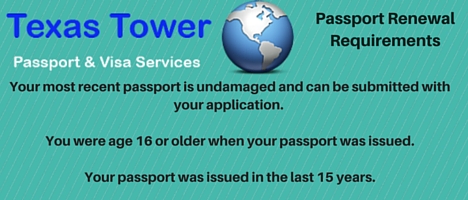 Then you will need to get some paperwork together. We have a handy checklist to help you with that task. Click to view.

We offer real-time tracking and above all, you'll always talk to a human when you go through Texas Tower Passport and Visa. We don't rely on automated systems to handle our clients. We will work with you from start to finish to make sure your passport renewal goes fast and easy.