Travel Hack: Outsource Your US Passport and Visa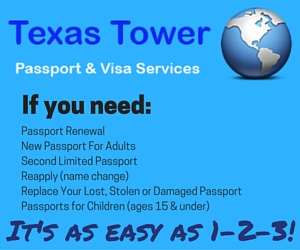 Before a trip overseas, one of the things you don't have to do is spend time renewing your passport. Using a passport expediting service, you simply pay a fee and let the agency do the work for you.
Going through the Passport Office or Post Office for renewing your passport can average 4-8 weeks.
Utilizing a passport service like Texas Tower will lower the time to 1-12 days and if you need to expedite service, they can turn around your passport renewal in 24 hours.
Issues Won't Stop the Process
Another difference in how your paperwork is handled. If there are any issues with your paperwork, the passport agency will deny your application and return your paperwork. From there, you will have to start over from square one. Texas Tower  will work with you to quickly resolve any issues.
Isn't it expensive to use an outside service?
Not really. There are fees on top of the existing government fees for this service, but our company works for you, one-on-one, to get your passport and travel docs. It saves a lot of time , and isn't your time worth it? Our passport pages have the fees listed for each type of service to keep the process as transparent as possible. Just choose the type of passport service you need and you can see the total cost.
The process for getting your passport online is simple: 
1-Fill out your paperwork for the type of service you want.
2- Send to Texas Tower with your completed order form.
3-Receive your new passport!
You have plenty to do before you go on an international trip, gathering paperwork and waiting for your passport renewal doesn't have to be one of those tasks.