Travel Goal 2018: Kenya
Visiting Kenya should definitely be on your list of travel goals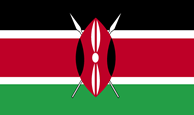 Getting ready for a trip to Kenya, there are many things you will need to do. One of those things is not hassling with getting your Kenya travel visa or passport updated – we can expedite both of those chores for you and save you a trip to the consulate.
Kenya will require that you show proof of a yellow fever vaccination before entry. If you've never done this before, it is a good idea to get your vaccination a few weeks in advance to give the vaccine time to build up in your system. Talk to your doctor about other vaccinations you may need for travel such as malaria or hepatitis A.
You will need a visa for both tourism and business travel to enter Kenya. You can begin the application process up to 90 days before your departure date. The standard turnaround time for a Kenya visa is about 5-10 business days, however if you need your visa faster, we can expedite your Kenya visa to arrive in 24 hours.
Kenya is regarded as a stable country however there are still occasional travel warnings issues for various reasons. Sometimes a yellow fever outbreak or it might be due to a large summit gathering such as the Global Entrepreneurship Summit that happens yearly that can attract criminal elements such as pickpockets targeting tourists and attendees.
You can get the latest Keyna Travel Alerts here.