How to Get Your Togo Travel Visa Faster
Traveling to the beautiful country of Togo on business or pleasure? You will need a visa to enter the country, and one other thing: you must show proof of a yellow fever vaccination.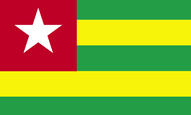 To Get Your Togo Visa for Business Travel
Your maximum stay is 30 days in Togo. You will need to also obtain three passport photos. You can obtain these through any local CVS, Rite-Aid, or Kinko's/Fed Ex store for example. You will also need to complete the visa application for Togo and print three copies.
You will also need proof from your physician that you have had a recent vaccination of Yellow Fever. Your flight itinerary, and a letter from your company on company letterhead will be required in your visa package. We can help you if you need help drafting the letter to meet the requirements for travel to Togo.
Getting your Togo Travel Visa for Tourism
Just like with the business travel, you will need to provide three copies of the Togo visa application and three passport type photos. You will also need to proof of a recent vaccination for Yellow Fever. The last requirement will be to provide a copy of your flight itinerary.
Passport Requirements
For tourism or business travel to Togo, your passport must have an expiration date of 6-months beyond your trip completion date, and one blank visa page. If you need to renew your passport or add pages, just contact our offices, we can expedite the process for you.
Ready to get started on your Togo visa? Just visit our dedicated country page or call our offices with any questions.