How to Get a Venezuela Travel Visa Fast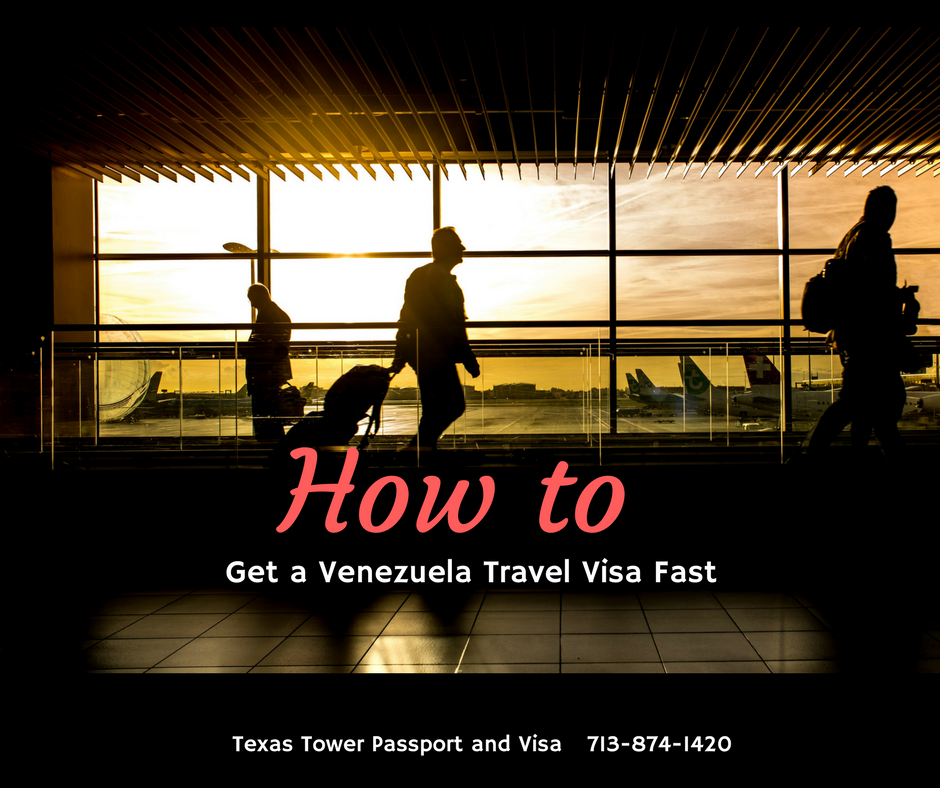 We process a large number of Venezuelan travel visas for U.S. citizens. Every country has their own nuances and unique requirements for entry by U.S. citizens. Venezuela is no different. The following are some of the most common questions we receive regarding Venezuelan travel visas.
I've heard there are multiple types of travel visas for Venezuela, can you tell me what they are?
Sure, there are three types of visas issued to U.S. citizens traveling to Venezuela. The type of visa you obtain depends on the reason for your visit to the country. You may get a business visa, tourist visa, or a work visa.
What is the maximum stay in the country on a visa?
Maximum Stay: 90 days
Where on the Texas Tower site can I locate the application for  a Venezuela visa?
The Venezuela visa application is located on our dedicated visa page for the country.
Will I need to submit a passport photo with my visa application?
Yes, you will need to submit 2 (two) passport-type photos.
Does Venezuela require any blank pages in my passport?
Yes, For a business-class visa you will need 3 blank pages for entry to Venezuela. Tourist visas require 1 blank page. Work visas require 2 blank pages. Your passport should have 6 months validity beyond the date of completion of your visit to Venezuela.
How do I get extra pages added to my passport?
Until January 2016, you simply added pages. In the preset, you will be required to renew your passport no matter when the actual expiration date of your passport is.
Does a business visa require a copy of the flight itinerary?
Yes, you will need to provide a copy of your flight schedule with your visa application.
For a business or work visa, will I need to provide a letter of invitation from a host in Venezuela?
Yes, you will need to provide a copy of a letter from a host in Venezuela. Business visa applications will also need to have the following paperwork included:
Copy of Articles of Incorporation from the company in the US
Copy of the RIF SENAIT from the inviting company in Venezuela.
Copy of Carta Mercantil form the Government of Venezuela
What does a non-U.S. passport holder need to provide in terms of documentation for a Venezuelan travel visa?
Non-USA passport holders must provide a copy of green card or US Visa and I-94.
If a child is traveling, will they need to make an appearance at the Consulate?
Here are the requirements for children traveling to Venezuela:

Can you show me the requirements for a Venezuela Work Visa?
Yes, you can see the full list including the necessary sample letter on our dedicated Venezuela Visa page.
What authorizations will I need to provide for a Work Visa in Venezuela? You will require the following documents: 
Authorization from Venezuela's Ministry for the Interior,Justice and Peace.
A certified copy of the work permit issued by the Ministry of Labor.
Degrees, work certificates and other proof requested by the Ministry for the Interior, Justice and Peace that show evidence of the applicant's employment status.
A copy of the employment offer or contract.
A certificate of health. Translated into Spanish–Texas Tower offers this service.
A police record issued by local authorities. Translated into Spanish-Texas Tower offers this service.
Company Letter of Guarantee
How fast can I get a travel visa to Venezuela?
Processing time is 10-15 business days.