Need Your U.S. Passport Fast for Spring Break Travel?
You have choices when you apply for your first passport or renew.  You can go through the U.S. Passport Agency, and the wait time can be up to four to seven weeks, with the average time around six weeks.
The other choice is outsourcing your passport acquisition to a third party agency like Texas Tower.
We make it very simple for you.  Simply click the link for the type of passport service your individual situation requires, and then use our checklist to get the necessary documents printed and signed. Then we'll do the rest of the leg work for you.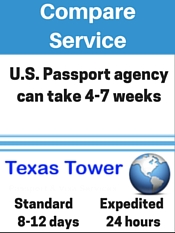 Our standard turn around time is 6-12 days or you can get an expedited passport rush in just 24 hours.  The U.S. Passport Agency does not offer 24-hour service.
There is a fee for using our service, but it frees you up to plan your trip and not hassle with the passport agency. When you're ready for your passport, we'll have it for you.
If you have any questions about obtaining your passport or feel you have a unique situation, just contact our office at 713-874-1420, and one of our specialists will be happy to assist you.