How Many of These Russian Foods Have You Eaten?
One of the best ways to truly experience a country during a visit is to seek out regional specialties. Russia has no shortage of them.
Here are ten great foods to check out, and let us know how many on this list you've tried on Twitter @TxtPassportVisa .
1. Borscht
Usually eaten as a starter, although it can make a great meal with a piece of rye or garlic bread and a salad.
This beet and cabbage red soup is a delicious belly warmer on Moscow's colder days, served with or without meat, potato, herbs (usually dill) and a dollop of smetana, Russian sour cream. Accompanied with a piece of rye bread or garlic bread topped with melted cheese, this dish is hearty enough to serve as a meal, although it is usually eaten as a starter.
2. Blini

If you love French crêpes, you will be on track to love the Russian version: the blini. Usually made with buckwheat flour when savory fillings are used and white flour when it's a sweet treat. Savory fillings often include smoked salmon, salted herring, creamed mushrooms, or a schmear of sour cream. Sweet fillings are often homemade jams, berries, honey and condensed milk are all common.
3. Olivier / Russian Salad
When in Moscow, order the Russian salad known as the Olivier Salad and you're in for a treat. This salad has cucumbers or crispy Russian pickles, diced potatoes, peas, chopped hard-boiled egg, and a smattering a freshly made mayo. Sometimes meats are added finely diced or enjoy it as is. Different regions in Russia will have variations of this dish.
4. Smoked Salmon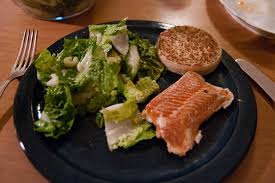 Russia is big on fish that is smoked, salted, and marinated in strong, earthy flavors. Common side dishes with fish are pancakes, or alongside a salad. Sometimes IN the salad. Another commonly enjoyed dish is Shuba. Also known as, "herring under a fur coat." The "fur coat" consists of layers of finely diced or grated vegetables such as beets and onions that are boiled until just cooked through.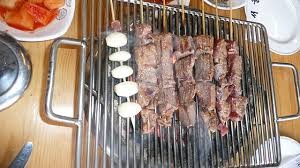 5. Shashlik/Shashlyik
What's better than meat on a stick? Russia has their own form of shish kebab using both meats and fish. Chunky cuts of chicken, beef lamb, or salmon are cooked on a skewer then served in an unleavened (flat) bread. Shashlik is a common street food m definitely give it a try during your visit.
6. Pelmeni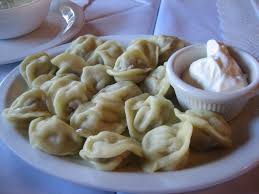 Watch out, Pelmeni is addictive. So you should totally seek them out when you're in Russia. Pelmeni are wonderful little dumplings packed in a thin dough made of water, salt, flour, and eggs. Filled with herbs and meats such as beef, pork, and lamb. In other regions common fillings are smoked salmon and mushrooms mixed with a cream sauce. Pelmeni comes two ways, either on the side or in a broth – try it both ways!
7. Pirozhki
These little delights are baked buns stuffed with a variety of delicious fillings. Most common are beef or mashed potatoes and mushrooms. There are also salmon and oatmeal pirozhkis. Depending on the region you're in Russia will determine the types of pirozhki that are available. Many restaurants will offer sweet dessert pirozhki that have fruit, cheese, or cottage cheese fillings.
8. Medovik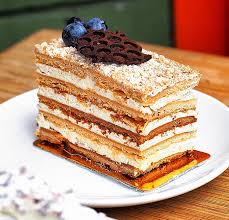 You can't visit Russia without experiencing a slice (or two or three) of Medovik. This is so much more than just a honey cake. This is layers of yum and makes a spectacular way to end a meal.
The legend states that the first Medovik was created by the personal chef to the wife of the Czar, Alexander I in the 1820s.
9. Stroganoff
Beef Stroganoff is probably the most widely known of this type of dish, but what makes a stroganoff is not the protein but the delicious sour cream based sauce. Other commonly used proteins are chicken, pork, salmon, and even sausage.  This dish was born in mid-19th century Russia and is still popular around the world today.
10. Mushroom Julienne

The name sounds bland and boring, but Mushroom Julienne is anything but. This is a dish where French meets Russian cuisine and it's completely awesome. It is a simple mixture of mushrooms, thinly sliced onions, butter, white wine, sour cream and heavy cream baked and then topped with cheese.