How to Get an Algerian Visa in Houston
If you're a U.S. citizen traveling to Algeria as either a tourist or for business purposes, you will need a travel visa for entry to the country. Here are some of the most common questions answered about obtaining your Algerian visa.
You can outsource the task to us in our Houston office and we will make the trip to the embassy for you.
How long may my stay in Algeria be?
Currently the maximum stay on a visa for both tourists and business visitors is 45 days maximum. Note that entry to Algeria must take place during the 45 days.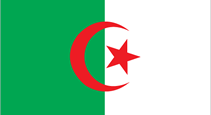 How long does processing for an Algerian visa take?
Unfortunately, due to instability in the region, the process time for obtaining an Algerian visa can vary. A minimum of 2 weeks is recommended.
Can the application be handwritten?
No, the application must be typed and printed.
Any special notes for passports?
Yes, Algeria will require that the expiration date of your passport extend beyond 6 months after the completion date of your trip to Algeria. You will also need to have at least one blank visa page in your passport.
Is an invitation required from an Algerian host for business travel?
Yes, you will need an invitation from a host within the country.
Ready to get started on obtaining your travel visa to Algeria? Contact us today at 713-874-1420 if you have any questions, and we'll be happy to help you.