Did You Know China has a Gambling Region with Revenues that Surpass Las Vegas?
Macau has been designated a Special Administrative Region of China and as such, enjoys independence except for China still controls the foreign affairs and handles defense for this nation.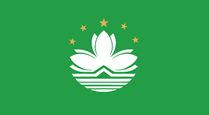 Because it was originally settled by Portuguese, the name they originally gave the area in the 1500s remains today. However, in China, the name of the region is known as Aomen. After 466 years, the Portuguese handed the region back to China.


Travelers can enjoy a gambling and gaming town with revenues that surpass Las Vegas.
American citizens do not require a travel visa to Macau for business or personal travel. However, your nationality may require a travel visa. Call us at (713) 874-1420 and get your passport in order or a travel visa (if needed) for your visit to beautiful Macau.