Passport Expediting Service Scam?
Let's talk frankly about our industry. Like any other industry, we have people in it to make a fast buck and don't care about the level of service their clients get. It's something we hear frequently that ALL passport and visa companies are a rip off. Not so.
There are a good number of legit passport and visa companies that will give you great service. We aren't the only passport and travel visa expediting service on the block but we can tell you why we are different. If you found this post because you're shopping around for a passport or visa on a rush basis, here are some helpful tips for sorting out the scams from the legit acquisition companies.
How long have they been in business?
Nothing wrong with being a newly opened company, but since you're doing business over the Internet, you need to be able to verify the place you're spending your money with. Texas Tower has been processing visa and passport requests since 1999 and their BBB file opened April 24, 2002.
Is your order secure?


Look for the lock on the URL bar when you order. If it's not secure, don't fill your information out online. Forms you print and fill out to send in via fax or mail, are obviously fine.
Understand what you're paying for.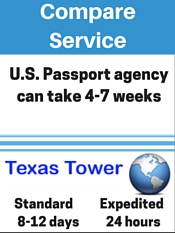 It can take weeks to get your passport through the U.S. Passport Agency can take anywhere from four to seven weeks. Using an expediting service can cut that time down to 24-hours if you need it. There are fees associated with this service, but part of service is the expediting service does the legwork getting your passport or visiting the embassy or consulate for you.
What is their standard of communication with clients?
If you're researching different passport and visa companies, ask how they communicate the status of an order with the client. Are you supposed to call in? Will they text or email? Would you be better off asking a Magic 8 Ball?
Texas Tower has real-time reporting. If you want to know the status of your order, we give you the means to find out immediately. Plus we always answer the phone during business hours. We believe in keeping your experience with us as one-on-one as possible. We now offer live chat on our website during regular business hours, so if you have a question, just ask!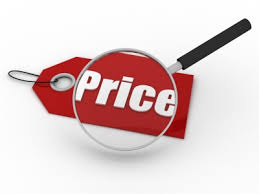 Do they have transparent pricing?
One of the number one complaints out there against passport and visa expediting services are shady charges. We like to be completely transparent with fees. Once our office receives your order, we will contact you to verify the services ordered and amount.Then, and only then, is the charge processed.
Check out their social media
While thinking about a humble passport or visa doesn't sound like a very exciting subject for social media, they are the basis of travel. You need a passport for international travel, and many countries require travel visas for entry. That opens up a huge amount of interesting information to share with travelers. You can catch Texas Tower on Facebook, Google+, Instagram, Twitter, and LinkedIn.
Did you look at their Yelp?
Yes, it's true there are sometimes baseless complaints on Yelp. It happens to every company sooner or later, it has happened to Texas Tower. However, how a company handles a negative complaint is often a good gauge of how reliable the company is. You can't please everyone, but in the case of an unhappy customer, we're always listening so we can remedy the situation and improve our service in the process.  Ultimately, we want every passport and visa we acquire to be the best and smoothest experience every for each client.
At the end of the day, there are scams in our industry just like any other service industry. Use these tips if you're doing research to find the best fit for your passport and visa needs.