How to Plan Your First International Trip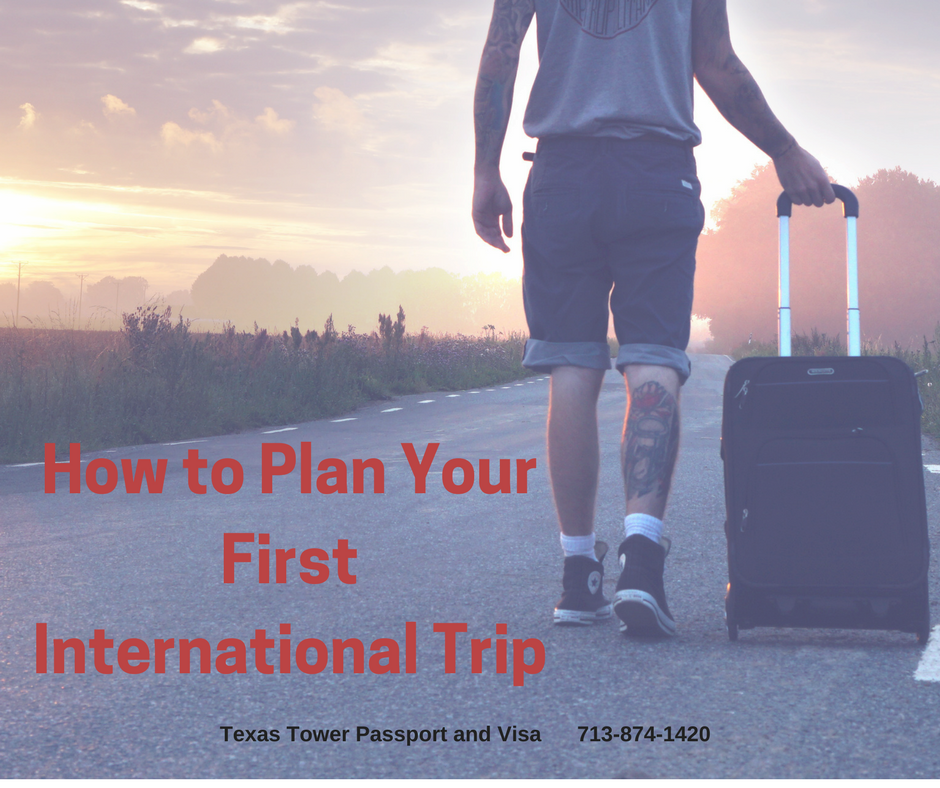 Planning a trip outside the U.S.? Did you know that makes you part of around five percent of Americans who travel internationally each year? If you're a first-time traveler overseas, we have some tips to make it easier.
Tip #1 – You will need a passport.
Actually, all signs point to travelers within the United States needing a passport by 2020, but you're traveling outside the United States now and you will need a passport to exit and enter the U.S. when you return. You will also need to show a certified copy of your birth certificate to obtain your passport. Outsource the task of getting a passport and spend your time planning your trip and deciding if you really need to include that 15th pair of shoes. Once you get your passport, it will be good for ten years. When you get your passport photo taken, get a few extra copies. Sometimes random countries will ask you for one at the border or you might need one for a visa (more on visas in a moment).
Tip #2 – Will You Need a Travel Visa?
Not every country requires a travel visa for entry. This is where the process gets extra fun, every country has their own rules, regulations, and process for obtaining a visa for entry. It also usually requires a trip to the consulate or embassy. This is a good task to outsource.
#3 Research Your Destination
In many countries, people in the cities do not drive at all. Public transportation, taxis, private buses, ride-sharing and other ways to get around make even renting a car unnecessary for a lot of destinations. Look up where you're going and learn the basic customs, hot spots, places to avoid, and whether a Hepatitis A vaccination is recommended to avoid getting sick from the food or water.
Tip #4 Where To Stay
A hotel isn't your only option. Check out couchsurfing.org or AirBnB.com to get in a local's home and really get a feel for the place you're visiting (maybe even make some new friends) get insider tips on cool places to go and save money.
Tip #5 Learn How the Money Works
In the present, if you don't have a credit card with a chip, ask your card issuer for one and you'll likely get it. Most chipped cards won't come with outrageous fees for using it abroad. Ask your credit card issuer what their fees are to avoid surprises on your statement when you get back.
Using a credit card is excellent security against fraudulent transactions. However, not all businesses will take cards so it's a good idea to carry a little local currency with you.
Figure out the exchange rate ahead of time so you aren't trying to do constantly calculate prices. For example, if you are in Iceland and you know 600 Krona is roughly equal to five dollars U.S., you can have a rough and ready point of reference for figuring out how much to spend and keep on you.
Tip #6 Avoid Roaming Fees
When you board your flight, switch off your mobile data. WiFi is available pretty much everywhere, use that to upload your travel photo to Instagram instead of your phone's data and you'll save money.
Tip #7 Learn a Little of the Local Language
Most places you visit will have people who speak English. However, it is polite to at least learn how to say, "Do you speak English?" and a few other phrases in the local language. You might be met with grins and laughs for trying, but most people are happy to help if you try.
Tip #8 – Know the Basics to Pack
Here is a complete list of the basics you need to pack: a toothbrush, toothpaste, your passport, your phone, and your credit card. Anything else you might want can be acquired where you're going.
You can make life easier for yourself by packing clean undies for a week if your stay is longer wash them in a sink with whatever soap is handy, and hang up to dry. Wool socks won't heat up your feet and never gather a smell.
For clothing, dress nice and for the weather (again research your destination) and you won't need more than two pairs of shoes for most trips.
And that's the basics for having a great time on your first jaunt outside the U.S.