So, You're a U.S. Citizen Who Wants to Go to Mozambique?

Mozambique is a beautiful, coastal country in Africa. United States citizen that want to visit for business or tourism purposes will need a travel visa.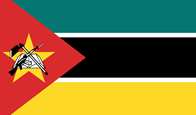 To enter Mozambique, you will need to make sure that your passport has a minimum of three blank pages in your passport. Your passport will also need to have an expiration that extends out past six months after the completion of your trip to Mozambique.
Your visa will be good for 30 days.
Our company can save you the hassle of visiting the consulate to get your travel visa. Just gather the necessary paperwork listed above, send it to Texas Tower, and we do the rest.
Here is a special note about visiting Mozambique. There are areas where pedestrians are banned.
Mozambican law requires that all persons carry a personal identity document, such as a passport when they are out in public. Notarized copies of both the biographic page and a valid Mozambique visa are considered acceptable forms of i.d.

Enjoy planning your trip to Mozambique, if you need help or have questions regarding your passport or visa, contact our offices at 713-874-1420, we're happy to help.