Texas Tower Renews Your US Passport in Houston in 24-Hours
When it comes time to renew your US passport, you get a six-month warning directly on your passport. If the expiration date is less than six months away, your US passport is technically expired and passport renewal is in your future.
Before you contact our Houston-based office to renew your passport. Make sure you meet the minimum requirements for renewing.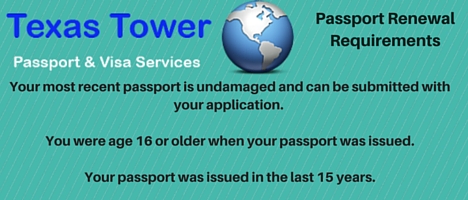 If these do not apply, you will need to apply for a new passport
Our Houston office is staffed with a knowledgable, experienced team who is ready to assist you in expediting your U.S. passport.
The current standard service if you go through the State Department channels is six to eight weeks. If you choose to expedite the process through Texas Tower, our standard turnaround time is eight to ten DAYS and we can turbo-charge your request to arrive within 24-hours.
You can review the time service and fees on our dedicated passport renewal page and determine the right type of service to fit your needs.
If you have any questions, call us during regular business hours at 713-874-1420. Se Habla Espanol.