Due to Covid-19 requirements, fees and processing time may be subject to change without any notice.
Please give our office a call for up-to-date requirements, fees, and processing times.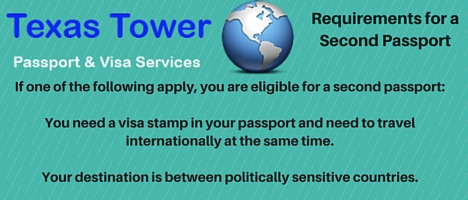 Second Limited Passports have a validity of 4 (four) years and many not be renewed.   Approval of the issue of a second valid passport in determined solely by the U.S. Passport Agency, based the applicant's requirement for the passport.
All documents must be signed and mailed to us. You may not scan and email us these documents because the Department of State requires original signatures.

Steps to Obtain a 2nd Passport
Information
Completed passport application. To ease the passport application process, applicants requesting passport service must now use this online form only.
Application Form DS-82
2 recent passport photos
We recommend that you have these pictures taken by a facility
familiar with passport photo requirements such as Walgreens, CVS, or Kinko's
Two signed Authorization Letters allowing us to act on your behalf at the State Department.
Authorization Letter
Texas Tower order form
Order Form
You must submit your most recently issued valid 10 year passport.
no copies, must be original
Flight itinerary or company letter requesting rush service.
Sample Letter
Explanation of Requirement for Second Valid Passport
Letter signed by the applicant addressed to the Passport Agency explaining why a second passport is necessary.
Letter Sample
PASSPORT AGENCY FEE: $170
TEXAS TOWER PASSPORT FEES:
Same Day Processing: $225.00 (You must send your package by FedEx 1st Overnight with Signature Release.)
2-3 Passport Processing: $158.00
5-10 Passport Processing: $89.00