Due to Covid-19 requirements, fees and processing time may be subject to change without any notice.
Please give our office a call for up-to-date requirements, fees, and processing times.
To obtain a passport through TexasTower.net, your departure date must be later than :
14 days from today.

Choose your service
Why Expedite?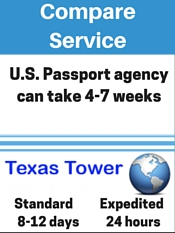 Get your passport from us in just 3 easy steps.


1- Choose your service
2- Provide our office with your documents.
3- Receive your passport or visa.