Need to Add Pages to Your Passport? Now You Need to Renew
As of January last year, the option to add pages to your passport was ended. You will now need to renew your passport. No matter when your expiration date is.
Fortunately, it is very easy to renew your passport through Texas Tower.
Just make sure you meet the requirements for a passport renewal: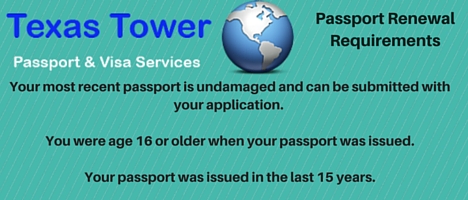 Next, just go to our Passport Renewal page and get started.
You just need to collect the documents we need to process your passport renewal and you can have your passport on our standard time service in 8-12 days or as fast as 24-hours.
Here's all you need to do:
1 – Signed passport renewal application completed online.
2- 2 Passport photos.
3 – Signed authorization for Texas Tower to act on your behalf,
4- Your current passport (a new passport will be issued to you).
5- Flight itinerary or company letter requesting rush service
6- Texas Tower order form.
That is all you have to do!
If you have any questions or feel like you have a special circumstance regarding your passport renewal, please contact our office at 713-874-1420. Once of our agents will be ready to help you make updating your passport fast and easy.