6 Tips for Traveling in Brazil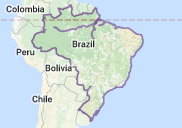 Whether you're traveling to Rio now for the Olympics, Paralympics, or afterward; there are some things to know that keep you safe and make your time in Brazil even more enjoyable.
Transportation can be a little different
There aren't specific bus stops in Rio. You hail down a bus with your hand and when you're ready to get off, there's a small cable above the windows of the bus you pull to alert the driver you're ready to get off the bus. In Rio, there is no Uber, but there is EasyTaxi if you want to use the app.
Colors mean things
Be aware wearing red can make people associate you as being sympathetic to former Brazilian President Dilma Rousseff. Green and yellow are the colors of the Brazilian flag and also the colors used by the Opposition. To avoid looking political, avoid shirts with slogans, logos, or flags.

Do not drink the water
Drink only bottled water and don't consume drinks that have ice in them.
Mosquitoes come with Rio
Insects are a fact of life in Brazil, especially mosquitoes. With Zika being prevalent, wear mosquito repellant, cover up when out and use mosquito netting to sleep under. This will lessen your chances of acquiring an illness.
Understand the money
Brazil uses the Real as their currently. Crime happens in Rio like any major city. Don't carry only cash. Carry also credit cards with you, just in case. ATMs can attract criminals looking for an easy target. If you must use an ATM, only use one in a bank with a guard present during the day.
Keep your passport and travel docs safe
You don't need a visa to enter Brazil until September 18. However you will need a valid passport. It's a good idea to lock your passport in the hotel safe and keep a copy on you at all times while you're in Rio along with your other identification.
Use these tips to make your time in Rio safe and fun! Happy travels.